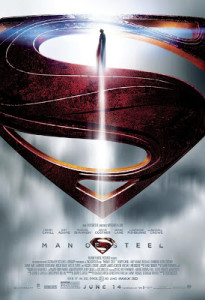 (Spoilers for Man of Steel, Iron Man 3, and The Avengers do follow) 
How I feel about Zack Snyder's Man of Steel is impossible to separate from how I've started to feel about most superhero comic adaptations. If you want a quick review; Man of Steel is entertaining enough to justify the money. If you don't get your hopes up, you may actually enjoy yourself. Don't expect to laugh. Depending on who you are, you may cry. When it's all over you will either kind of like it or really like it, but your opinion will change as you step further from the magic of the theater, IF you continue to think about it. You might also find that you are bored; a side effect of the action escalation of modern films.
Action escalation is a product of having special effect limitations removed with the proliferation of CGI effects. Now we can do anything we can think of as long as it fits in the story like with most superhero adaptations, and sometimes when it doesn't like in Kingdom of the Crystal Skull. Just goes to show you, if Spielberg can make the mistake then no one is safe. With more superheros in theaters than ever before, the audience is in serious risk of growing exhausted by the studio's need to "out do" the film that opened a few weeks before.
"The Avengers destroyed New York, how do we top that in Iron Man 3? Well, we can't but let's try throwing more than 40 Iron Men at the audience and see how they take that? By the time the film is over they'll never want to see another iron man suit get smashed again. They saw it happen 42 times!"
"Hey we are working on Superman, we can actually top the destruction from past films because these guys are indestructible. More is always better right!"
The problem with this thinking is evident in Man of Steel. By the start of the third act, you've seen it all before. It's akin to watching a wrecking ball demolish several building. It sounds really amazing but after the first, it's all just rubble. It's made worse by the fact that Superman is never really in danger. This is always an issue when you deal with Superman but at least his friends can be in danger. Only, we don't spend enough time with the supporting characters to really care about them outside of the fact that they are human lives at risk. Then again, that doesn't carry much weight after thousands have died in the wake of over the top destruction. Why should I care any more about the girl stuck in rubble just because she has a name. At least, I think she has a name, I never noticed her until she was stuck in rubble.
What we are left with is largely the same series of events over and over. Someone gets punched. The punched super person is knocked through several building. Buildings topple probably killing people. Rinse. Repeat. There is some filler to switch things up but it feels like filler and the damage is done. The punches don't connect with the audience. The violence doesn't feel violent. The visceral displays of strength and ferocity don't feel very visceral. It's all just… empty. I liken it to slapping the surface of a body of water. There is an impact but it's nothing like slapping the surface of a concrete table.
By the time the fighting is over, Superman is left with one fateful decision; what to do with Zod? The General is hellbent on the destruction of the human race and after all Superman has done in his crusade to save humanity, (like destroying Smallville and crashing a ship of kryptonian babies who weren't nearly as big of jerks as Zod) there is really only one option. The weight of the decision is robbed by the certainty of it. Sadly I could have cared less about this moment regardless. I just wanted the fight to end. It was all just stylized white noise with little consequence. This conflict inside Superman should have been a franchise shattering moment but it fell flat for me. I didn't even realize I was supposed to take note until Superman let out a primal scream. Only then did I realize what he had just done but only because the scream seemed oddly out-of-place and out of character.
Obviously there is more to the Man of Steel than the action and as far as the story goes, it's entertaining enough even if it's filled with the usual silly character decisions and logic holes. Costner does a great job as Clarks dad, as does Michael Shannon as Zod. Henry Cavill is good if not a little too muscular. Amy Adams is sadly miscast and it's apparent anytime she has to speak. The theme is great and, while not particularly new, it fits in nicely with the Superman ethos. Unfortunately is doesn't pay off in pretty much anyway at all. I could be wrong about that and if I am please inform me. I had a hard time staying engaged as the film crumbled through the third act. All that aside, Man of Steel is not a terrible movie. I view it more as a missed opportunity. Admittedly, Superman is hard. It could have been worse. It should have been better.
With more and more superheros scheduled to hit the screen in the next 5 year, each one is at risk of losing what made it stand out originally to us as an audience. These unique characters, intended to encourage strength and good in humanity, are up against a terrible foe. Action Escalation is very powerful and growing stronger each year. It has the ability to oversimplify decades of character development. It can reducing each hero into a giant grey mass of concrete rubble, lasers, smashed cars, and downed helicopters, indistinguishable of those that came before it. And…it can leap tall buildings in a single bound. If we are not careful, we'll be left with nothing but big budget tentpole action flicks that no one wants to see. No one is safe. Not even Superman.